Gasco Multi-Gas Bump Test 402E: 1.25% vol. Methane (50% LEL Pentane Equivalent), 18% Oxygen, 50 ppm Carbon Monoxide, 25 ppm Hydrogen Sulfide, Balance Nitrogen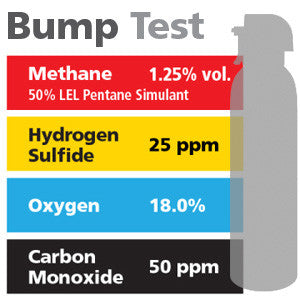 By Gasco
Description
Buy Gasco 402E Multi-Mix Bump Test Gas - Lowest Price Guarantee*.
Precision bump test gas used to test sensors in gas detection equipment for environmental emissions monitoring, industrial hygiene monitors and trace impurity analyzers.
Exceeds or meets the requirements of Gas Detection Equipment Manufacturers
Fully compatible with all manufacturers' calibration sensors, equipment and detectors
Precision blended and inspected to industry standards - National Institute of Standards and Technology (NIST) traceable and certified
Made in the USA by GASCO, ISO 9001:2008 Certified
Contact us for custom dual, triple and quad bump test mixtures.
Subject to hazardous materials shipping requirements.
Technical Specs
Gas Mixture:
1.25% vol. Methane (50% LEL Pentane Equivalent), 18% Oxygen, 50 ppm Carbon Monoxide, 25 ppm Hydrogen Sulfide, Balance Nitrogen
Gas Type:
Reactive Multi-Mixture
Cylinder Size:
Aluminum: 10 Liter
Part Number:
10L-402E
Compatible Part Numbers:
Biosystems 54-9046E
Compatible with calibration sensors requiring the specified concentration and balance gas.
Manufactured by:
Gasco Affiliates, LLC
Shelf Life:
15 months
Regulator Compatibility:
Aerosol trigger attached to cylinder.
Tubing Compatibility:
Teflon® Tubing