Industrial Scientific 1810-2806 Chlorine Equivalent Calibration Gas - 2 ppm (Cl2)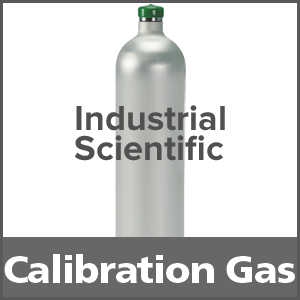 By ISC by GASCO
Description
Industrial Scientific 2 ppm Chlorine (CL2) span gas cylinder used to calibrate ISC gas detection equipment with chlorine gas sensors.
Fully compatible with Industrial Scientific gas detectors requiring 2 ppm chlorine with balance nitrogen.
Precision blended and inspected to industry standards - National Institute of Standards and Technology (NIST) traceable and certified.
Made in the USA by GASCO, ISO 9001:2008 Certified.
Contact us for custom chlorine calibration gas mixtures.
Subject to hazardous materials shipping requirements.
Note: ISC Calibration Gas By GASCO is an equivalent and does not include an iCard.
Technical Specs
Target Gas:
Chlorine (CL2)
Concentration:
2 parts per million
Balance Gas:
Nitrogen
Gas Type:
Reactive
Cylinder Size:
58L
Part Numbers:

ISC Part Number: 1810-2806

GASCO Part Number: 58L-252-2

Manufactured by:
Gasco Affiliates, LLC
Shelf Life:
12 Months
Regulator Compatibility:
Valve Inlet: C-10
Stainless steel regulator required due to reactive nature of gas.
Fixed Flow Stainless Steel (70/SS Series)
Tubing Compatibility:
Teflon® Tubing